About Us
Our business name is -Therapeutic Massage- and we are located in Asbury Square, Dubuque Iowa. We have been in this location since 1995 offering professional, ethical massage services.
If you're looking for a professional massage therapist, you've come to the right place. Our therapists are highly-skilled, experienced, and trained in a variety of modalities. All of our therapists are licensed and have passed a National Certification exam; they bring years of experience and education to the table. Joan Knockel, owner, has been developing her techniques for 28 years. Danielle has been relaxing clients for 24 years, and Tina has been relieving deep muscle tension for 23 years.
You can click on the "Our Services" page to learn more about the various techniques we use in our work.
Local doctors, chiropractors, and physical therapists refer patients to our office for support. Dr. Dale Lonning, Chiropractor, provides chiropractic, D.O.T. and Sports Physicals, and Cupping from our location. He has been cracking patients up with his humor and aligning skeletal systems for nearly 22 years. To schedule an appointment with Dr. Dale Lonning call 563-543-4357.
Same day appointments may be available; however, for a massage, it is recommended to call one week in advance. Our office hours vary, so call for availability. Occasionally, during peak demand times, you will have to wait a few weeks to get an appointment (So sorry when that happens!), but the fact that we are busy, tells you we must be worth the wait, as our clients say.
Payment is made by cash or check at the time of the appointment or in advance.
We have a sincere commitment to provide the highest standard of care to those who seek our professional services.
NEWS
* Spotlight on Joan Knockel from the National Certification Board for Therapeutic Massage and Bodywork https://www.ncbtmb.org/spotlight-joan-knockel-bctmb/
* Chiropractor, Dr. Dale Lonning, also offers cupping therapy, sports physicals, and DOT physicals. To contact Dr. Lonning and schedule an appointment, call 563-543-4357.
* Therapist, Tina Shade, studied cupping techniques, and is now offering Cupping Services for her clients! Call our main office 563-583-3629.
* In October of 2019, Joan Knockel attended another Advanced Neural Reset Therapy seminar and took away techniques to work with scar tissue, myofascial bands, and periosteal nodules.
Listen to Joan Knockel's Interview with Elevated Radio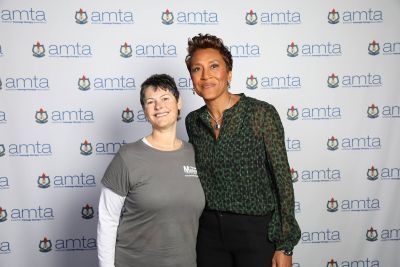 * In Oct 2016, Joan Knockel took additional classes in Myofascial Techniques for Sciatica and Massage for the Ribcage and Diaphragm at the American Massage Therapy National Convention. Met keynote speaker, Robin Roberts, co-anchor of ABC's "Good Morning America."
* Joan Knockel attained Master Certification in Neural Reset Therapy in April 2015. She is the first person to have completed and passed all the newly updated requirements, and was the 14th person to hold this certification worldwide! Find out more at http://www.neuralreset.net/ You may also find Neural Reset Therapy on facebook https://www.facebook.com/NRTnow/
* April 2016, Joan Knockel, Danielle Stone-Klostermann, and Tina Shade attended classes in ethics (facilitated by Tina) and structural integration.
* Danielle Stone-Klostermann and Tina Shade have taken a class (2015) in the treatment of muscle injury of the lumbar spine and lower extremities to add to their vast continuing education list.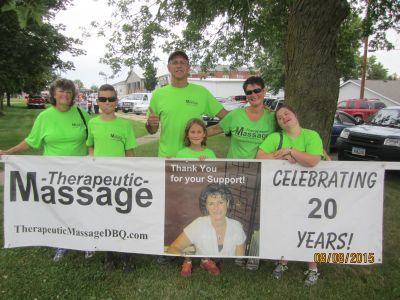 Celebrated our 20th Anniversary May 2015.
Holy Cross Days Parade!
A big thank you to my home town!