News
Beginning February 2018 we will be offering the services of Dr. Dale Lonning, Chiropractor, out of our office. To contact Dr. Lonning and schedule an appointment, call 563-543-4357.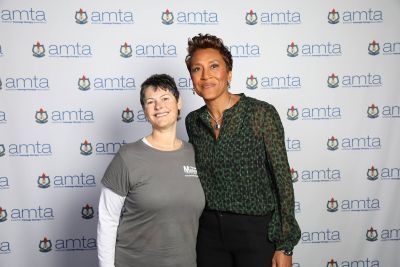 In Oct 2016, Joan Knockel took additional classes in Myofascial Techniques for Sciatica and Massage for the Ribcage and Diaphragm at the American Massage Therapy National Convention.
Met keynote speaker, Robin Roberts, co-anchor of ABC's "Good Morning America."
Joan Knockel attained Master Certification in Neural Reset Therapy in April 2015. She is the first person to have completed and passed all the newly updated requirements, and was the 14th person to hold this certification worldwide! Find out more at www.neuralreset.net. (Sorry, this website does not support links.) You may also find Neural Reset Therapy on facebook.
April 2016, Joan Knockel, Danielle Klostermann, and Tina Shade attended classes in ethics (facilitated by Tina) and structural integration.
Danielle Klostermann and Tina Shade have taken a class (2015) in the treatment of muscle injury of the lumbar spine and lower extremities to add to their vast continuing education list.
Lymphatic drainage massage can relieve or ease many allergy symptoms. While it won't stop your allergies, lymph drainage can help with many of these symptoms. It allows the body's own healing system to do what it is intended to do. Lymphatic massage stimulates the circulation of fluid through lymph nodes. After suffering from sinus infections, lymph massage can remove much of the congestive material from around the facial area by increasing the effectiveness of your lymph system! Ask for Tina!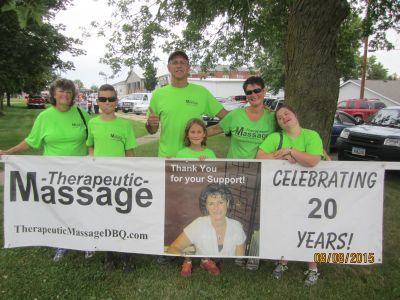 Celebrated our 20th Anniversary May 2015.
Holy Cross Days Parade!
A big thank you to my home town!